Rising Sun animals are among the most accomplished in the world. Our animals compete in trials and competitions around the world. Our animals are placed globally, enjoying great success in competitions on the trial field and as family companions.
Keep up with Rising Sun Farm through our news page, where we post articles and updates about our animals. Find information about competition and trial results, as well as exciting breeding information. Follow your favorite animals, or read testimonials from people around the world who have purchased one of our wonderful animals from Rising Sun Farm.
Border Collie News
RISING SUN MIGHTY ~ NEW AGILITY DOG CHAMPION!
Mighty and Jen Weaver braved the cold at the CACM trial in St.Cloud Minnesota to earn Mighty's USDAA ADCH. The fast Mighty is quick on her feet...and keeps Jen on her toes. They make a wonderful team to watch. Stay tuned for more adventures with the Mighty Might and Jen. CONGRATULATIONS Jen and Mighty!
Mighty is by our Preacher and out of our Penny daughter Aggie
loved ~ Owned and trained by
Jennifer ~ Minnesota USA


---
RISING SUN KILL BILL!
I LOVE this border collie. I love him in the normal life and I love him in training. He loves doing everything with me, agility obedience, sheepdog... Bill is always with me and all of my dogs. Bill is a lovely dog. He is very intense and high drive... a very smooth jumper and light on his feet. Bill is a very reactive dog, very quick and collaborative. Bill works "WITH" me and and loves competition.
Bill is a Rayzor son out of our Sara
loved ~ Owned and trained by
Matilda ~ Italy


---
GRAND CHAMPION "SECRET"
Introducing GCH CH CHF Avatar Don't Tell Daddy. Thanks so much to Rebecca Beckmann & Stacy Einck-Paul for breeding this lovely blue and white bitch by GCH CH Bayshore's Cast A Spell At Avatar ( Brodie ) ~ Out of Never Never Land Uprising Sun ( Fergie ) "Secret" will now start her career in performance showing in Obedience, rally and Heridng. She just earnedd her CGC Award and needs one more leg for her CA in Lure Coursing. It has been a total joy owning Secret... And with her intelligence, drive and desire to please, she should be a success in her new endeavors. Congratulations Judy!!
GCH CH CHF Secret
Judy ~ GA



---
Wisp ~ Rising Sun Razzberry & Imported Buddy Puppy
Wisp is Fantastic!! I took him herding and tried ducks the first time. He was a bit strong. Then me and my instructor Mike took him in a big field with sheep.You should have seen him... You would be proud! He was so incredible that everyone stopped what they were doing and just watched. Wisp herded the sheep with no direction from us, He kept the perfect distance, stopped on a dime when he needed to and dropped on his own when they were gathered. He looked like a "Professional". Everyone was awestruck! Including me. My Husband was in a chair watching, and stood up just amazed. When we were done, Mike patted Wisp and said. "Your a Keeper"! Everything Wisp does is wonderful and he is a love bug. I love my "pretty dogs" but I love Wisp's brain more ! My only regret is that I didn't get a dog from you a long time ago. Thank you again.
Wisp is loved and Owned by:
Eileen and her husband.
Sara Sota FL


---
Sizzle ~ A Life Time Achievement Award Platinum!
Rising Sun Sizzle is simply Amazing! There are no words to describe how awesome that she is in every way. In February 2016 she achieved a HUGE milestone in agility by earning her Lifetime Achievement Award-Platinum title ! This was never a goal I set out to accomplish, but Sizzle had other plans. She was always a great teammate and joy to run. At five years old Sizzle qualified in many almost perfect weekends! The LAA Platinum Award is 500 Qualifying scores from the master level including at least 50 Q's in each of the following classes 1)Standard 2) Jumpers 3) Gamblers 4) Pairs Relay 5) Snooker 6) Tournament Classes. Sizzle is incredible and I am so honored to be her soul mate and team mate! Thank you for giving me the opportunity to share my life with this wonderful dog!! She is the Best!! Thank you Becky and Steve!
Congratulations Jacque ~ Hugo Minnesota
LAA Platinum Rising Sun Sizzle
---
A Brand New Master Agility Trial Champion!
Introducing MACH Rising Sun Frequent Flyer. Congratulations to the Koeger family and their lovely dog Jett. Rebecca and her son Alex trained and trialed Jett to his Championship. Congratulations on all of their hard work. The handsome Jett is a lovely dog out of our Fergie by Imported Astra Mars.
Congratulations Rebecca and the Whole Koeger Family ~ Minnesota
MACH Rising Sun Frequent Flyer ~ "JETT"
---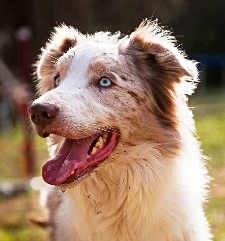 A Brand New Agility Trial Champion!
Introducing ATCH Rising Sun Simply Stunning. Congratulations to Susan Miller and her dog Zap for their wonderful accomplishment. It is obvious to all that know Susan and Zap of their special bond. Susan says that Zap is her one in a million. The handsome Zap is a lilac merle son by our late Astra Mars and Imp. Stella.
Congratulations Susan ~ Texas
ATCH Rising Sun Simply Stunning
---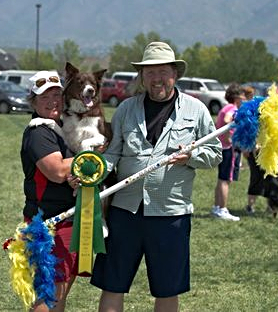 Another Brand New Master Agility Dog Champion!
Introducing MACH Rising Sun Blazin Star. Congratulations Jan Skurzynski and Dale Mahoney for their wonderful accomplishment. I remember Jan telling me a few years ago... When ever Blazer stepped into the trial arena.... People "Stopped" to watch her. Blazer always gives 100% while running. For all of those who know Jan and Blazer ~ Their love and bond is HUGE. The beautiful Blazer is a lovely daughter by our Handsome Ladd and Jane.
Congratulations Jan and Dale ~ ID
MACH Rising Sun Blazin Star
---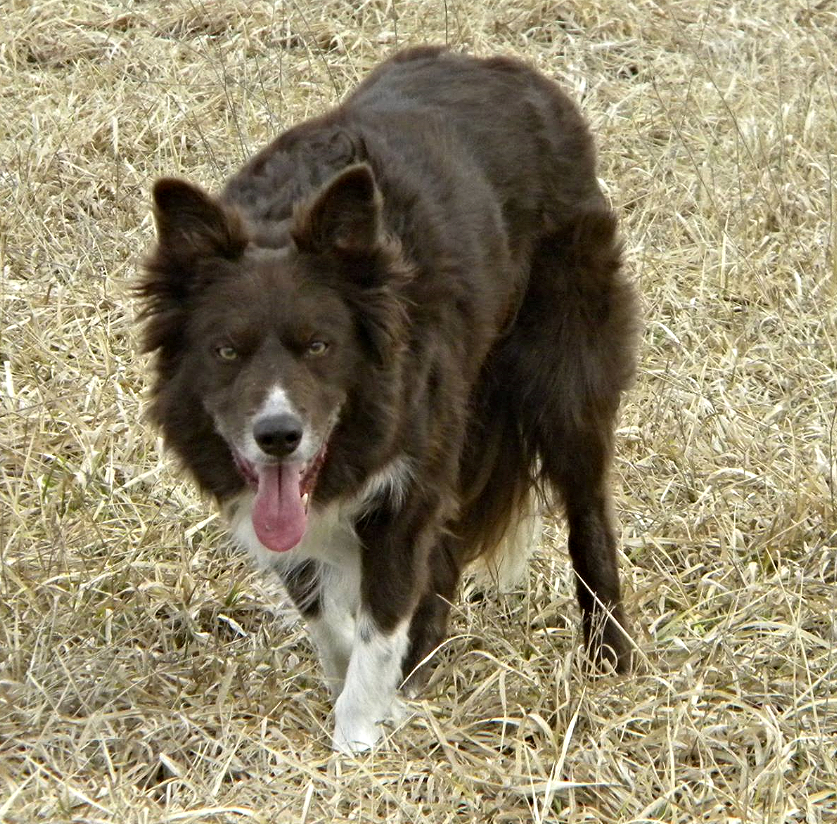 A Brand New Master Agility Dog Champion!
Congratulations to Cheryl Leatherman and her wonderful dog Ricky for completing the requirements for their MACH. Cheryl and Ricky are always a wonderful team to watch... Running agility or herding... Ricky and Cheryl are a "poised" team that are hard to beat! Ricky is a lovely red boy by our Spot son Jammer and Lucky Penny. Congratulations Cheryl and Ricky!
Cheryl Leatherman - WI
HC MACH Rising Sun Ricochet
---
Another Brand New Agility Dog Champion!
Congratulations to Brett Duke and his dog "Punch" earning their USDAA ADCH at the Minnesota Agility Club Trial. Brett and Punch continue to grow as a fine team together. Always fun to watch the two of them compete! Punch is lovely red boy by our Handsome Ladd and Imported Astra Stella. Congratulations Brett and Punch!
Brett Duke - MN
Rising Sun Punch ADCH
---
Border Collie News
A Brand New Agility Dog Champion!
On September first 2014, Trek and Lauri Duke earned their Agility Dog Championship at the MAC USDAA trial in Ham Lake. To cap off the weekend, Trek also won the Steeplechase. Trek is the first Border Collie I have trained and trialed with.... And he is just the perfect boy for me. He is loving, sweet, intense, driven, focused and fast are all words that describe Trek. I am so grateful and lucky to have him. We are learning so much together on this incredible journey. Trek just turned four years old and is out of Astra Stella and Astra Mars.
Lauri Duke - MN
Rising Sun Quest for Adventure AX,MXJ,XF "Trek"
---
Appreciating our Blazer
Hi Becky, Just wanted to let you know that Blazer is still just an amazing, amazing dog. She has already qualified for the AKC NAC (National Agility Championship) to be held early in 2015, this early in the year on limited showing due to our judging schedule and the small number of trials we have that we can attend! She also got QQ #15 this weekend, so I think we will reach MACH this year or early next year. And to top it off she is such a loving dog and fabulous companion. She is a special girl and I love every day I have with her. Just sharing my appreciation of her with someone who will understand... Blazer is a lovely red female out of our Jane by Ladd. She is owned by Jan and Dale Skurzynski ~ ID
---
Rising Sun Wise Guy CD, CDX, UD OA, OAJ ~ Congratulations Terry!
"Luca" finished his Utility title with three first place finishes. He got his CD, CDX and UD all in one year and not yet 2 ½ years old! He has his Open Standard and Open Jumpers title in agility… But for now on to UDx. Terry says that Luca makes her "look" good. Becky this is my third dog from you and they just keep getting better and better. Luca is an amazing dog and so incredibly smart. No matter what he does, he does it with gusto. The best thing about him is that he is a cuddle bug!! I so look forward to more adventures with my boy. Thank you for breeding such a wonderful animal. Luca is a lovely red male border collie produced by frozen Semen and Trans-cervical Insemination ~ The frozen semen by our Imp.Spot. Our Hottie is Luca's dam. Luca is trained, trialed and loved by Terry Papineu, NJ
---
Breeder of the Year
This year Becky is the AKC's first recipient of the Breeder-of- the-Year Award for Herding. The Award is given to those breeders who have dedicated themselves to improving the health, temperament and performance of dogs in a given companion or performance event. Becky has been breeding Border Collies for the past 18 years; she is also a stock dog judge for both ASCA and AHBA as well as an AKC Breeder of Merit. Becky lives in Stacy, Minnesota with her husband Steve Burdine.
---
A New PLATINUM ADCH!
Congratulations SIZZLE and Jacque Hoye! Miss Sizzle is now a Platinum Agility Dog Champion. You Need 50 Master Gambler Q's;50 Standard Q's; 50 Jumpers Q's;50 Snooker Q's;50 Relay Q's; and 50 tournament class Q's. The weekend at the Duluth Arrow Head trial in Minnesota was huge with Sizzle earning her Platinum Jumpers Title. I never dreamed that this goal was even obtainable for us! I couldn't be more proud of my Sizzle and what a super team mate that she is to me. Thank you again for breeding such an AWESOME dog! She is perfect in every way! I Love her to Pieces. Jacque Hoye ~ Hugo MN
---
A New Mach 1
Congratulations to Jeanne and Cayenne! I always thought of my fast red girl as a champion...and now USDAA agrees! Great jumpers run in Boise to complete Cayenne's Agility Dog Champion title. Oh yes, she also qualified in team and steeplechase. Cayenne is a Penny and Spot daughter – Loved, owned and handled by Jeanne Lehan - UT
---
New Herding Champion
Border Collie Rusty
Congratulations Susan Rhodes for handling Rusty to her AKC Herding Championship! Rusty is an imported bitch from Kevin Evans in Wales. This stylish bitch is bred by Stewart Davidson. She is a daughter off of his Jim and out of his international supreme champion star. Rusty is a stylish worker with clean flanks. Rusty is triple registered. She is trialing USBCHA, winning and placing high in pro-novice with Susan Rhoades. They are getting ready to trial in the "open" class.
---
Congratulations to Susan Miller and Her Dog Zap!
ZAP got his Rally Excellent Title today in San Antonio with a score of 99 (100 is tops) and a First Place. He has completed his Rally Novice, Advance and Excellent Titles all with scores of 90 or more and has had a perfect score of 100 and several 99. In Rally Advanced and Rally Excellent all of his Q's were First Places. Sunday in Selma and today in San Antonio, both Judges told me that I had an awesome dog. He qualified for AKC Rally Nationals last year and is already qualified for this year. This is his "second job". Agility is the main focus, his best game. Can't thank you enough for the dog of my dreams! – Susan Miller ~ TEXAS. Zap - Rising Sun Simply Stunning - AX, AXJ, MFX, HT, RE, CGC - GS-E, JS-E, RS-E - AD, AS, AG, ASA - RO1. ZAP is a lilac merle out of Imp.Astra Stella and Astra Mars
---
PHOTO COURTESY ~ GREAT DANE PHOTOS
New ADCH
Congratulations Lori Harker and ZIVA! Hi Becky - Just have to say THANK YOU yet again for breeding the MOST AWESOME little girl I can imagine having in Ziva (Frank X Sara - Sep '08) - now ADCH Rising Sun's Set My Sights on Ewe "Ziva". I'm so proud of my cuddly little girl and all that she's accomplished already. I've learned a lot from her and she's helped me get better, both in training and handling, in order to help her shine. I luv my girlie for so many reasons, from her grumbling at me on course when I'm late, to her making be laugh with her goofy facial expressions, to being the cuddliest dog I've ever had. She is just amazing! Thanks!
---
Frozen Semen
WE HAVE FROZEN SEMEN FROM:
(These exceptional males will be used in the future with our top females)
Michael Gallagher's Cap ~ Pedigree
2010 International Supreme Champion
6th - 2009 International Supreme Championship
2nd - 2009 International Qualification
12th - 2009 Irish National 8th -2008 International Supreme Championship
2008 Reserve National Irish National Championship
2008 North of Ireland Champion
---
Richard Millichap's Dewi Tweed - Pedigree
2009 International Supreme Champion. Tweed is a four year old grandson of Richards 2003 reserve supreme champion "Ben."
Tweed is a tremendous worker with natural square flanks, plenty of
forward push and tons of stamina
over any distance. Away from stock Tweed is very social with a
wonderful temperament.
---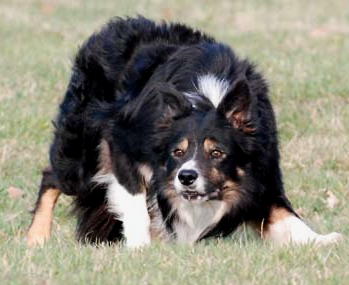 PHOTO COURTESY ~ KIRSTIN PIERT
Bobby Dalziel's Joe ~ Pedigree
2006 International Supreme
Champion and
2009 Scottish National Champion
---
PHOTO COURTESY ~ ANGIE DRISCOLL ~ KINLOCH SHEEPDOGS
Angie Driscoll's Cheviot Jamie ~ Pedigree
From Kinloch Sheepdogs
(Jamie won his first trial at 11
months old ~
Winner of 28 prestigious Open trials)
---
Australian Shepherd News
Congratulations to Ben and Bill
Hi Becky. I have listened to your advice how to train with Bill. It's simple, he has to listen. As result I have done a trail on the JJ ranch. The results in starter class are 77 on ducks, never trained on them, 84 on sheep and 85 on cattle. We have trained on cattle 2 or 3 times. I am very pleased how Bill did his job. And these points in his first trail great. Will be continued. Ben lives with Ben and Shirley de Boer ~ Netherlands.
---
A New WTCH For Mary Manners and Gala!
PCH WTCH Gala finished her Working Trial Championship under judges Roy Sage and Joan Corillo. She earned two first places with a HIT from Joan. A great way to end a fabulous weekend in Idaho at Carol and Lyle Gerkens. Thank you Jan Wesen for being such a great trainer and friend... and thanks to Becky Beckmann & Steve Burdine for my incredible little Gala Bug!. I'm really proud of her. Gala is a daughter out of our Chaf and Badger. Gala lives with her mom in Alaska.
---
Bengal Cat News
PHOTO BY ~ SHEILA RILEY
Quality Breeder Kitten - Rising Sun Petey
From Graham and Sheila Riley Kingston CA ~ Petey is doing awesome. He is the love of our life! He has the most awesome temperament... confident, loving and always making biscuits. He sleeps with us every night. We cannot thank you enough for this loving and sweet temperament male. He is perfect and a fine example of the Bengal breed! Petey is developing into a stunner! We love his huge rosettes, super clarity and color. Thank you!
Petey is a male spotted kitten out of our Deeva ~ 2015
---
PHOTO BY ~ BECKY BECKMANN ~ RISING SUN BENGALS
Quality Pet Kitten - Rising Sun Binkxy
From Jessie Bush in Santa Cruz CA. OMG... We couldn't be more delighted to have chosen your services!! Three words describe it all ~ Excellent, Excellent, Excellent! Your communications, the carrier and preparations and the quality of our kitten ~ Your commitment Really Shows. Our Binkxy LOVES his new home and family. Thank you!
Binkxy is a male spotted kitten out of our Miranda Lambert & Flash ~ 2015
---
PHOTOS BY ~ BECKY BECKMANN ~ RISING SUN BENGALS
Upcoming Stud - Rising Sun Jaeger Rooster
No words to say "Thank you" to Becky Beckmann for our special boy. We are so happy to have "Rising Sun Jaeger Rooster" join our family. The boy is incredibly gorgeous. I LOVE HIM SO MUCH! Owned by REEN KB ~ Malaysia.
---
Kirk & Leonard -
After a full week here the boys are getting more comfortable in the their new home. We are in love with them. They both have such amazing personalities. Their room is filled with a cat jungle, many toys, food and the litter box. They have received a clean bill of health from our vet. Their names are Captain Kirk and Leonard Nimoy. Thank you so much for everything!
Kastina Benoit & Eric Waddington - Billings Montana
---
Rising Sun Boris
Hi Becky. Boris small victory. We went with him to the exhibition this weekend and became the champion Boris Tika. His temperament is super!! And has its own charm .... Boris is a Beautiful boy. Thank you Becky and Steve for Boris ~ Маргарита Круглянская ~ Moscow Russia
---
PHOTO COURTESY NIKOLETTA NEMETH ~ NETHERLANDS
Rising Sun Caviar
The boy and I had a connection from first second and "clicked" together. He loves me I love him. He is a happy dream boy. Today we went to the vet for a checkup. His comment is: "this boy is excellent." Everything was great, he was sweet and the whole check was super. I can not tell you how happy I am. Thank you . Can't wait to see him grow up! Nikoletta
---
---
New QGCH Rising Sun Glacier
Congratulations to Alison and Steve Coxon and their New Quadruple Grand Champion Rising Sun Glacier. He was a star all weekend and a sweetheart with all the judges. He is charming personified, begged for the first place, he loves everyone, rolling on judges tables for his tummy tickled, he is a credit to you, he is a big solid boy, great contrast now, great tail, lovely domed head shape, great chin and nice profile, but his personality wins everyone over, he is unique. He does just that, but he is a great cat besides his personality, I'm so thankful for him Becky and Steve ~ Alison & Steve Coxon; Sunstorm Bengals ~ Derrane, IRELAND
---
Rising Sun Yeti the Beast
Hello, Becky and Steve, Every time I stroke the Yeti, I remember the warmth and tenderness of you. I want to again thank you from my heart for the Yeti. I seriously believe that this is the best jewel of our house. He gentle, he's smart, he has a thick coat, beautiful posture, noble face, powerful strong legs. He is the whole health and strength. Mr.Bigfoot is one such in the world, He is One in a million. I am immensely happy and immensely proud and have pride in the fact that we have a cat of your nursery. Whole heartedly thank you. With respect to the family of Becky and Steve. The whole family Sizov ~ Moscow Russia
---